Raksha Bandhan, also known as Rakhi, is a beloved festival celebrated in India that beautifully symbolizes the bond between brothers and sisters. On this joyous occasion, the sister ties a sacred thread, called Rakhi, on the wrist of her brother. It is a day full of love, customs, and heartfelt feelings. The significance of Raksha Bandhan lies in its essence of protection and love. The thread of Rakhi signifies the sister's love and prayer for her brother's well-being, while in return the brother promises to protect and support his sister throughout her life. It is a celebration of the unique bond between brothers and sisters that is beyond time and distance.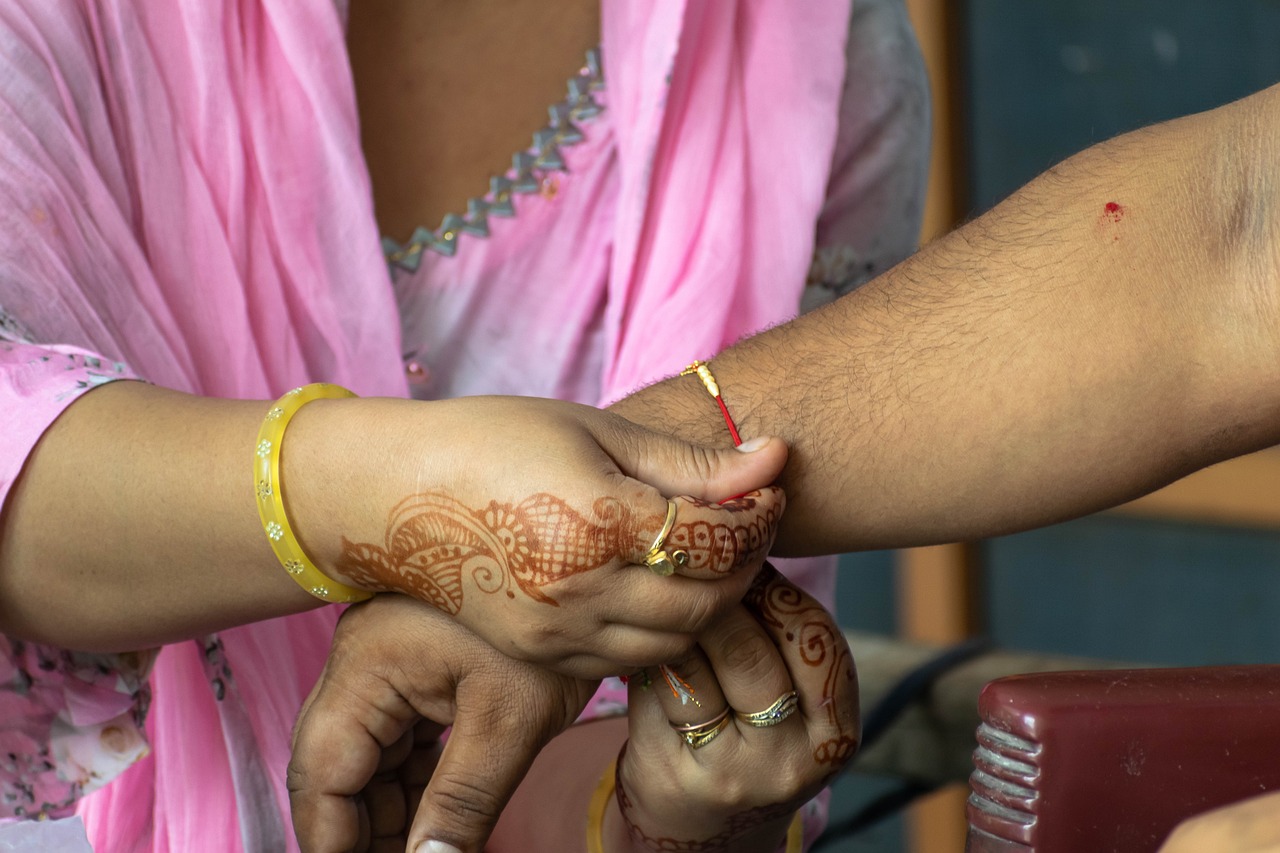 The celebration of Raksha Bandhan begins with preparations that bring excitement and anticipation. Sisters choose beautiful rakhis, which are often adorned with colorful beads, intricate designs, and sometimes even personalized messages. On the other hand, brothers eagerly wait for this day, ready to shower love and gifts on their sisters. On the day of Raksha Bandhan, families come together, and the rituals begin. Sisters perform aarti, a traditional prayer, and tie a rakhi on their brother's wrist expressing their love and best wishes. In return, brothers give gifts to their sisters and promise to protect them from any harm. It is a moment of pure affection and a reaffirmation of the bond they share.
Beyond the customs and traditions, Raksha Bandhan has a deeper meaning. It shows the importance of family, love, and security. It is a reminder of the unconditional support brothers and sisters give to each other in good times and bad. Raksha Bandhan is not just a festival; It is an expression of love, gratitude, and the unbreakable bond between siblings. It is a day that brings happiness, laughter, and fond memories. So let's celebrate Raksha Bandhan
If you are struggling for gift ideas for your sister, here are some ideas we have:
1. Stylish jewelry like a delicate necklace or a trendy bracelet.
2. A subscription to her favorite magazine or book by her favorite author.
3. A gift card to her favorite clothing store or online shopping website.
4. A trendy phone case or portable charger for her phone.
5. A personalized photo album or scrapbook full of memories.
Here are some wishes quotes for Rakshabandhan.
1. The bond of love between brother and sister should be strong.
May the sweetness of 2. relationships always remain.
3. May you be showered with happiness and success.
4. May your world be filled with love and joy.
5. May you always be safe and successful.
6. Distance should never come between us and love should always be there.
7. May your dreams turn into reality.
8. May your life be full of happiness.
9. Sending you my best wishes for Raksha Bandhan.
10. May God protect you and bless you with success.