While ChatGPT is a sophisticated language model, there are other ChatGPT alternatives that have comparable or even more extensive capabilities. There are numerous powerful AI-based alternatives to ChatGPT to help you achieve your goals, whether you are seeking for AI authoring software, virtual assistants, SEO tools, or code generators. 
With this post, we'll look at some of the best ChatGPT alternatives, giving you the information you need to make an informed decision on which AI-powered tool is appropriate for your specific needs and objectives. But before that, we'll discuss why people search for ChatGPT Alternatives.
Why ChatGPT Alternatives?
OpenAI's ChatGPT is an AI-based chatbot platform designed to engage with people and provide helpful solutions to inquiries. To understand and respond to users, it employs natural language processing (NLP) and machine learning algorithms. ChatGPT allows you to write code, schedule events, obtain homework help, and much more. 
As a result, there are various ChatGPT alternatives. These systems frequently employ similar NLP and machine learning techniques to deliver highly personalized and engaging chat experiences for users. However, others go above ChatGPT's limitations, providing more powerful generative AI solutions.
Each platform has its own set of features and price plans, so it is critical to research and evaluates many possibilities to pick the one that best meets your goals and budget. Finally, the best ChatGPT alternative for you will be determined by criteria such as the sort of interactions you want to enable, the number of queries you want to run, the type of content you want to be generated, and your target audience. 
ChatGPT Alternatives
ChatSonic
ChatSonic is a robust WriteSonic feature that is likely the greatest ChatGPT alternative. It is an AI-powered chatbot (as well as an AI writing tool) that makes use of NLP and machine learning technologies. ChatSonic, now driven by CPT-4, can understand context and nuances at a higher degree than ChatGPT's free version.  Furthermore, this platform suggests sentence structure, tone, and word choice to help consumers generate high-quality content fast and efficiently. Chatsonic may also generate digital artwork and use voice instructions to assign jobs to the chatbot.
ChatSonic's template collection strengthens you and your writing abilities. You can rehash your text in a different tone or style by using the text Rehash tool. Furthermore, the library offers AI-generated article ideas to assist you with the ideation stage of writing. Additionally, ChatSonic's template collection may assist you with ad authoring, eCommerce content, social media content, and website text.
Key Features 
Provides a number of templates for easily creating material.

It has a built-in plagiarism checker to ensure that the text is unique.

Suggestions on sentence form, tone, and word choice are provided.

It has a simple interface for entering ideas.

Provides "language switching" to alter the language of the information in real-time.

Integrates with other applications like Google Docs and WordPress.
Price Plan  – $13 per month. 
2.Jasper AI 
Jasper AI is a ChatGPT alternative writing software that enables organizations, brands, and people to quickly and accurately write SEO-friendly content. Those who have used ChatGPT will like Jasper Chat, which allows you to connect with AI and develop content through natural dialogue. Jasper's major goal is to assist individuals in creating marketing materials in doing it in an efficient and correct manner. Jasper can be used for advertising, email, blogging, website content, social media, and other purposes. Jasper includes a number of AI-powered templates that you may use to get started with their platform right now.  
Jasper AI's generative AI platform is a standout feature. This platform enables customers to instantly generate material targeted to their specific needs without having to manually enter all of the information. 
Key Features
50+ AI-powered template options

More than 20 languages are supported.

Integrates with Sufer SEO to generate SEO-friendly content Creates digital art

Create documents immediately from within the platform.

Share papers with team members to facilitate cooperation.
Pricing –  $49 per month. 
3. Bard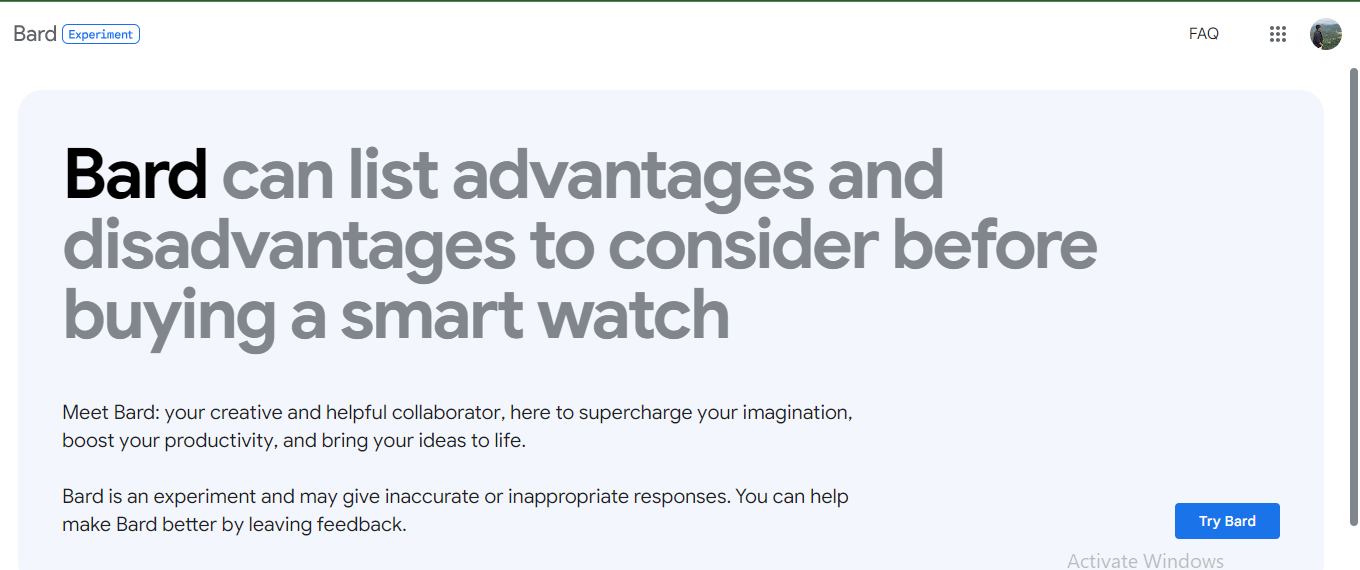 Google has created Bard, a highly anticipated AI chatbot that uses natural language processing and machine learning to deliver real-time responses to a wide range of inquiries. In contrast to ChatGPT's dark mode, Bard has a clean, streamlined look that is aligned with Google's hallmark Material design.
Along with a user-friendly UI, Bard provides a slew of useful features, such as the ability to amend previous questions and restart conversations at any time. The chatbot can generate text, translate languages, create original material, and answer questions simply and concisely, among other things. Furthermore, Bard has quick response rates, making it an effective tool for swiftly acquiring information and insights on a variety of topics.
Key Features 
You can clear your chat to ask a new question.

Bard activity displays prior requests.

Capability to respond with a thumbs-up or thumbs-down

"Google It" integration allows you to search the web using the search engine.

Has more up-to-date information than the ChatGPT Alexa and Google Assistant connectivity.
Pricing  –  Free
4. The New Bing (Bing AI) 
Microsoft's new Bing (also known as Bing AI) is a conversational AI-powered search engine. Users can enter questions, and Bing will return answers based on web searches. When you search with Bing, you will receive highly accurate results that are tailored to your specific questions. You can also use your voice to communicate with Bing. The search engine evaluates and summarises search results from throughout the web, ensuring that you receive what you're looking for without having to go through several, often overwhelming results.
Because Bing is a search engine, it may give you with results that include videos and photos. Whereas ChatGPT is solely an AI language model and cannot explore the Internet, Bing AI can look up documents, movies, photographs, and other items on the Internet.
Key Features
Improved search precision

Voice search capabilities Personalised recommendations based on user data

Choose a talking style that is innovative, balanced, and precise.

For organizations, it provides insights into user behavior and search trends.

It is compatible with Apple and Android devices.
Pricing –  Free 
5. CoPilot

Github's CoPilot is an AI-powered code completion tool that helps engineers write code more efficiently and productively. The platform understands and analyses code using the OpenAI Codex and advanced natural language processing (NLP) and machine learning (ML) technologies, delivering real-time suggestions and predictions to help developers write code faster and with fewer errors.
CoPilot may be readily implemented as a plugin into generally used IDEs and editors. CoPilot can help you type code in Visual Studio Code, Visual Studio, JetBrains, and Neovim.
Key Features 
AI-assisted code completion

Many programming languages are supported, including Python, JavaScript, Ruby, and others.

Code context examination

It works well with a variety of popular IDEs and editors.

Support for a large codebase

Predictions and tips for coding in real time
Pricing – $10 per month (Free Trial also available).
Frequently Asked Questions (FAQs)
Before we finish, let's address some of your most often-asked questions about ChatGPT alternatives. 
What is the best alternative of ChatGPT? 
     ChatSonic is considered as the best alternative of ChatGPT. 
Is there a free alternative to ChatGPT?
    There are other free alternatives to ChatGPT available online, including Bard, Bing, and YouChat. However, depending on the scale and complexity of the task at hand, the capabilities and performance of these models may differ.
What are the most important elements to consider when selecting an AI chat tool?
                It is critical to examine an AI chat tool's natural language processing skills, interaction with your existing systems, customization possibilities, scalability, ease of use, and customer support before selecting one. It is also critical to analyze the pricing of the tool and whether it fits within your budget.
Can these tools produce audio and video?
        Bing AI, for example, can generate speech and video. Bing AI is a search engine that provides a variety of capabilities such as speech-to-text, text-to-speech, and video summarisation APIs. Text-to-speech API can produce natural-sounding voices in a variety of languages and dialects. The video summarising API can analyze and summarise a video's content.
Can AI chatbots enhance SEO?
          AI chat technologies can indirectly aid enhance SEO by increasing user engagement and interaction on websites. Chatbots can respond to user queries quickly and personally, enhancing user experience and lowering bounce rates. As a result, chatbots can gather useful user data that can be utilized to guide SEO strategy and improve website content.