Keeping your face hydrated is very important and essential for daily life because it helps maintain the overall health and appearance of your skin. When your skin is properly hydrated, it looks plump, supple, and radiant. Here are a few reasons why face hydration is important: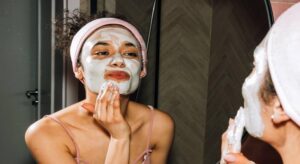 Moisture barrier: Hydrated skin has a strong moisture barrier that helps protect it from external aggressors like pollution, harsh weather conditions, and irritants. This barrier locks in moisture, preventing water loss and keeping your skin hydrated.
Prevents dryness and flakiness: Dry skin can lead to flakiness, itchiness, and discomfort. By keeping your face hydrated, you can prevent these issues and maintain a smooth and soft complexion.
Reduces signs of aging: Dehydrated skin can accentuate the appearance of fine lines, wrinkles, and dullness. Proper hydration helps plump up the skin, reducing the visibility of these signs of aging and promoting a youthful-looking complexion.
Hydration is essential for maintaining healthy and glowing skin. Here are five tips to help you keep your face hydrated:
Drink plenty of water: Staying hydrated from within is crucial for maintaining healthy skin. Aim to drink at least 8 glasses of water a day to keep your skin hydrated and supple.
Use a hydrating moisturizer: Invest in a good-quality moisturizer that is specifically designed to hydrate the skin. Look for ingredients like hyaluronic acid, glycerin, and ceramides, which help to lock in moisture and keep your face hydrated throughout the day.
Avoid hot showers and harsh cleansers: Hot water can strip away the natural oils from your skin, leaving it dry and dehydrated. Opt for lukewarm water when cleansing your face and choose gentle, hydrating cleansers that won't strip away moisture.
Incorporate hydrating face masks: Treat your skin to a hydrating face mask once or twice a week. Look for masks that contain ingredients like aloe vera, cucumber, or honey, which have moisturizing properties and can replenish your skin's hydration levels.
Protect your skin from the sun: Exposure to the sun can dehydrate your skin. Always apply a broad-spectrum sunscreen with an SPF of 30 or higher to protect your face from harmful UV rays. Additionally, wearing a wide-brimmed hat and seeking shade during peak sun hours can help keep your skin hydrated.
By following these tips, you can ensure that your face stays hydrated, resulting in a healthy and radiant complexion. Remember, hydrated skin is happy skin! Let me know if there's anything else you'd like me to include in the article. Overall, keeping your face hydrated is essential for maintaining healthy, glowing skin. It helps protect your skin, prevents dryness and flakiness, reduces signs of aging, enhances elasticity, and improves skin texture. So make sure to prioritize hydration in your skincare routine for a happy and healthy complexion!