Mumbai, Aug 23 – Everyone is aware of Karan Johar and Kangana's fight. Meanwhile, Karan has expressed his desire to watch Kangana's film Emergency and has expressed his eagerness. Everyone is surprised to hear that and also some believe that Karan Johar has extended the hand of friendship in front of Kangana. Hearing Karan's latest statement, his fans are saying that it seems that Karan Johar has made up his mind to befriend Kangana or it can be said that Karan has extended his hand for friendship.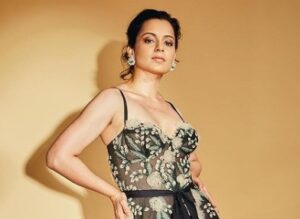 Karan Johar went to an event where he was asked "Would you like to make a film on any political event?" So as per reports he said that "Emergency" is already in the making and I am quite excited to watch it.
Emergency A film based on the Indian Emergency, Ranaut played the role of Indira Gandhi, the late former Prime Minister of India. The film also stars Anupam Kher, Shreyas Talpade, Mahima Chowdhary and Milind Soman in key roles. Emergency is an upcoming Indian Hindi-language biographical historical drama film directed and produced by Kangana Ranaut, screenplay by Ritesh Shah and story by Ranaut.
Talking about Kangana's eagerness to watch the film, that too from the words of Karan Johar is nothing less than magic. During this, Karan Johar further said, "The film reviews of Bollywood celebrities are not always genuine. We are all big liars in this matter. The industry sometimes manipulates the box office numbers as well. ,
In this event, Karan Johar also mentioned the films which are making a splash at the box office. Karan Johar's statement about Kangana's film is now going viral.
After the viral statement of Karan Johar, now Kangana Ranaut has given her reaction. Kangana has shared a post on her social media which reads "The worst slander campaign of my life was unleashed on me on its release weekend last time she said she was looking forward to watching Manikarnika. Almost all the lead actors who worked in the film were paid to malign me. Sabotaged the film and suddenly the most successful weekend of my life turned into a nightmare for me. So I am scared because he is again eager to see my film Emergency. This tweet of Kangana is now becoming very viral.