Mumbai, Aug 29- While everyone is waiting with bated breath for Shah Rukh Khan's film Jawan, meanwhile a piece of shocking news about King Khan is coming to the fore. It is being told that the Mumbai Police has become worried about his safety. After which security has now been increased outside the actor's house.
Before the release of Jawan, Shah Rukh Khan faced criticism and backlash over an online gaming advertisement. Shah Rukh Khan is accused of influencing youths to take up online gaming. Due to this, some protesters gathered outside Shah Rukh Khan's bungalow Mannat to protest. He protested against Shah Rukh Khan for endorsing gaming apps.
According to information, this protest was organized by the 'Untouch Youth Foundation'. It targeted several online games like Wild Rummy and Zooey.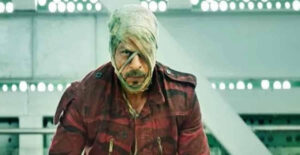 During this, there were protests against many such actors and actresses who misled society by promoting these gaming apps. He says that actors and actresses endorse these gaming apps due to which society is being misled.
It is being told that some people protesting have been detained. King Khan fans are horrified to see so much security outside Mannat. The film Jawan is scheduled to release on 7 September 2023. Some songs from the film have also been released, which are being liked a lot.