Hyderabad/Amaravati, April 14 – Chief ministers and governors of Telangana and Andhra Pradesh on Friday paid rich tributes to the architect of the Indian Constitution Dr B. R. Ambedkar on his birth anniversary.
Telangana Chief Minister K. Chandrasekhar Rao said that the life of Ambedkar is a proof of the philosophy in encountering the obstacles with self-confidence.
Chief Minister KCR praised Ambedkar as a brave and noble person who did not give up despite facing discrimination in the name of colour and caste and the social evil of untouchability from his childhood.
In his message on Ambedkar jayanti, the CM said that Ambedkar is a universal man who reached the heights of success with his broad thinking without getting stuck in self-deprecation and vulnerability. CM KCR said that Ambedkar was a global intellectual who removed the prejudices prevailing in the society with the light of knowledge.
CM KCR remembered Dr Ambedkar on his 132nd birth anniversary as the father of Indian Constitution, his role in changing the course of the country and yeomen services to the nation.
The Chief Minister said that Ambedkar's writings, speeches and criticisms on many topics including democracy, abolition of caste, untouchability, religious conversions, women's rights, religion, economic reforms, history and economy have made the whole world ponder.
He described Ambedkar as a role model who sacrificed his entire life for equal rights in all systems to create a modern India without inequalities.
He noted that Ambedkar outlined the world's largest written constitution and the fruits enjoyed by the oppressed sections today are formulated with his intelligence.
CM KCR said that the installation of a 125 feet statue of Ambedkar in the heart of Hyderabad on his birth anniversary is a matter of pride not only for Telangana state but also for the entire country.
The Chief Minister said that the Telangana society is paying a big tribute to the 'Telangana Bandhu" Ambedkar, who incorporated Article 3 in the Constitution which facilitated the formation of the Telangana state.
Unlike anywhere else in the country, the CM said that the new Telangana state Secretariat building is named after 'Dr. B.R. Ambedkar Telangana State Secretariat as part of continuation of the aspiration of the great leader.
CM KCR said that the state government is implementing special schemes to the upliftment of the SC communities who are facing social discrimination.
The Telangana government introduced the 'Telangana Dalit Bandhu' scheme specially aiming to bring a qualitative change in the lives of Dalits. The Dalit Bandhu scheme is a revolutionary in the history of the country. The beneficiaries do not need to repay Rs 10 lakh under the Dalit Bandhu. The government also created 'Rakshana Nidhi' to help them in case of any kind of financial difficulties faced in the future.
Governor Tamilisai Soundararajan also paid tributes to Ambedkar. She said that he is one of India's greatest sons, having shaped the country's Constitution. He was a zealous social reformer and a renowned lawyer.
"Respected Babasaheb's life is a shining example of the human soul's triumph over repression, as well as a trumpet appeal for justice for the impoverished and downtrodden and ensuring basic constitutional rights of each and everyone," she said.
"Let us all follow the ideals and mandates of the Constitution respecting the constitutional office / Institutions created under it, for our Nation to achieve the glory of her yore days," the governor added.
Andhra Pradesh Chief Minister Y.S. Jagan Mohan Reddy described Dr. Ambedkar as one of the greatest intellectuals the country can be proud of.
He said Ambedkar was a multifaceted personality with immense knowledge in legal, social, political, economic, spiritual and other fields. He noted that the constitution maker laid solid foundations for the country's political, democratic and social systems.
"His efforts to forget the differences and make humanity flourish cannot be forgotten. Walking in the footsteps of that great man, we have taken historic steps in poverty eradication and social justice empowerment," said Jagan Mohan Reddy.
Andhra Pradesh Governor S. Abdul Nazeer said in his message that Dr. Babasaheb Ambedkar was an eminent jurist, chief architect and father of Indian Constitution. Throughout his life, he fought for the empowerment of the socially, economically and educationally weaker classes of the society.
Maharashtra CM pays tributes to Dr B.R Ambedkar on 132nd birth anniversary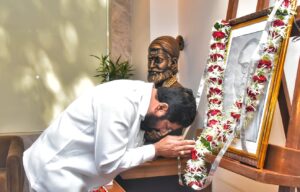 People from all walks of life paid rich tributes to Bharat Ratna Dr B. R. Ambedkar – the Chief Architect of the Indian Constitution – marking his 132nd birth anniversary here on Friday.
Leading the people Governor Ramesh Bais, Chief Minister Eknath Shinde, Deputy CM Devendra Fadnavis and other ministers went to Chaityabhoomi in Dadar to offer floral respects to the eminent jurist, economist, social reformer and freedom-fighter.
Top leaders of various major parties, including Congress state President Nana Patole, Balasaheb Thorat and Ashok Chavan, Nationalist Congress Party President Sharad Pawar, state chief Jayant Patil, Leader of Opposition (Assembly) Ajit Pawar, Supriya Sule, Shiv Sena (UBT)'s Aditya Thackeray, Leader of Opposition (Council) Ambadas Danve, Sanjay Raut, Arvind Sawant and others paid tributes to Dr Ambedkar.
Reports of celebrations have come in from all over Maharashtra, major cities, towns, districts and upto block levels with commoners, men, women, school and college students, Dalits and others remembering Dr Ambedkar, revered as the Champion of the Downtrodden Masses.
A series of social-cultural events have been organised throughout the day to commemorate Dr Ambedkar's life, teachings and contributions, by various private, government or semi-government institutions, NGOs and organisations working towards the cause of the downtrodden.
Significant places directly linked with Dr Ambedkar – Mumbai's famed 'Rajgruha' , his residential memorial in Dadar east, the south Mumbai's Elphinstone High School and Elphinstone College where he was educated, and his final resting place of Chaityabhoomi in Dadar west, witnessed massive crowds of his excited followers trooping in here from all over the state.
Other importance sites connected with Dr Ambedkar, like Nagpur's Deekshabhoomi where he embraced Buddhism, Raigad where he carried out the Mahad Satyagraha, and his tiny ancestral village of Ambadawe in Ratnagiri, were specially decorated with flowers, colourful rangolis and lights to mark the occasion, as thousands turned up to pay homage to his memory.