Varanasi, August 29: Shri Kashi Vishwanath Dham is setting new records in the 56 days of the month of Sawan. In 56 days of Sawan, 1 crore 56 lakh 90 thousand eight hundred 98 people bowed their heads after Mangala Aarti at Vishwanath Dham in Uttar Pradesh and created a new record. On the arrival of such a large number of devotees, the security arrangements should be perfect, to ensure this, Uttar Pradesh Chief Minister Yogi Adityanath himself visited Shri Kashi Vishwanath Dham thrice in the month of Shravan and took stock of it.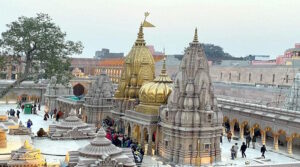 Sunil Verma, who is the Chief Executive Officer of Kashi Vishwanath Temple, said that on the eighth Monday of the month of Shravan, about six lakh nine thousand devotees bowed their heads at Baba's feet and had darshan of Baba.
The month of Sawan, which started on July 4, is about 2 months and now 56 days have passed, and till now in 56 days 1 crore 56 lakh 9 thousand 8 hundred 98 devotees have visited Shri Kashi Vishwanath Temple.
Due to the extra month this year, Sawan was of two months. Baba's devotees were welcomed by showering flowers and laying red carpet so that all the devotees looked happy.