New Delhi, Dec 11 (UiTV/IANS) – As more studies indicate heart inflammation among the young and healthy adults especially after the second dose of covid vax, top doctors said on Sunday that this should not raise alarm bells as more conclusive studies are needed to prove that Covid-19 vaccines should be avoided.
The Journal of the American College of Cardiology has revealed that the risk of Myocarditis, Pericarditis or Myopericarditis (acute heart inflammation) is higher after the second dose of the Covid-19 vaccine.
In this condition, inflammation in the heart's muscles and the covering of the heart can cause various cardiac issues.
Other studies have also reported these incidences at around 0.3 to 5 per thousand population, making it a rare phenomenon.
More importantly, these cases have been treated timely and have not resulted in fatalities, although most of these patients' required hospitalisation.
"In other words, these cases were relatively infrequent, and most of them recovered from their condition with a simple conservative symptomatic treatment with no requirement of significant intervention," Dr Sanjith Saseedharan, Consultant and Head Critical Care, SL Raheja Hospital, Mahim, told IANS.
Whether there are long-term repercussions for this condition, only time will tell.
"However, this complication is seen more in young individuals, probably because they have a more robust immune system which can sometimes cause dysregulated inflammation," explained Dr Saseedharan.
As more cases of unexpected heart attacks and even strokes come to light among the healthy, young and middle-aged Indians, a new survey revealed last week that both unvaccinated and vaccinated people have been impacted by this new health emergency.
About 51 per cent citizens said they have one or more individuals in their close network who have experienced heart or brain stroke, blood clots, neurological complications, cancer acceleration, or other sudden medical conditions in the last two years.
According to the survey by LocalCircles, a social community platform, 62 per cent citizens said those in their network developed such conditions were double vaccinated, 11 per cent said that those impacted were single-dose vaccinated, while 8 per cent said they were not vaccinated.
According to the cardiologists, the steep rise in people dying unexpectedly of heart attacks is of concern.
"Though we do not have sufficient data and evidence to prove whether this is a Covid-induced phenomenon; definitely this has increased post-covid. Long term Covid sequelae could possibly be responsible in some cases," Dr Samir Kubba, Director-Cardiology, Max Super Speciality Hospital, Vaishali, told IANS.
According to Dr Sanjeev Gera, Director and Head, Cardiology, Fortis Hospital Noida, Covid or long Covid may cause persistent inflammation in heart vessels.
"This can rupture silent blockages and cause a heart attack, especially after an unaccustomed exercises like heavy weight lifting or walking on a treadmill or running in a cold weather and the risk increases when there are risk factors for heart disease like high BP, diabetes, high cholesterol, smoking or obesity," Gera told IANS.
At the moment, no significant evidence exists that this condition can have any adverse outcome since the vaccine's benefits far outweigh the risk, added Dr Saseedharan.
Covid vax-related heart inflammation cases still rare and mild
The Covid-19 pandemic has turned out to be an eye-opener for the healthcare system as well as the general public with millions of people losing their lives and their loved ones in the pandemic.
While the disease is generally associated with the respiratory system, the virus has been known to affect several other parts of the human body or speed up the existing ailments of a person due to which the only way out of the pandemic and to get back to "normalcy" turned out to be vaccination.
While vaccination against Covid-19 provides clear public health benefits, several reports have been coming out suggesting that taking the second dose of Covid-19 vaccine increases the chances of a person getting diagnosed with Myocarditis.
Myocarditis is a heart-related ailment in which myocardium (heart muscle) gets inflamed and reduces the heart's ability to pump blood causing chest pain, shortness of breath, and rapid or irregular heart rhythms (arrhythmias) and while reports have linked it with Covid vaccine, the studies have limitations and cannot prove cause and effect.
The Covid-19 virus is known to affect several vital organs of the human body just like in the case of the heart. Coronavirus can cause inflammation in the heart preventing the heart from functioning properly and it has been proven that people having been diagnosed with it have a higher chance of getting Myocarditis than patients having received the vaccine.
Myocarditis targets the younger generation from people post puberty to people younger than 30 years of age.
The heart ailment is also known to be more susceptible to men than women due to higher testosterone levels present in males and has been linked to a variety of viruses in the past as well including influenza and coxsackieviruses.
Any Covid-19 vaccine-related myocarditis cases are still rare, and the instances that have been reported have often been mild. Those affected typically recover rapidly with rest and simple treatments and result in a return to normal heart function.
According to several researches, no vaccine is more likely to cause myocarditis in the long term and people who are vaccinated have a much lower risk of getting other serious complications caused by Covid-19.
As the pandemic has been a wake-up call for global health affecting millions, the need of vaccination is still important to build protection against the Covid-19 disease and its variants preventing several severe illnesses or the need of hospitalization in case one gets the virus. The safest method for preventing hospital stays, severe long-term health effects, and mortality is still considered to be vaccination.
Experts have also suggested that an increased time-frame by governments around the world between each vaccine dose has helped reduce the risk of myocarditis, as it provides ample time for antibody formation with fewer side-effects like fever, headache or fatigue (tiredness).
The global health sector is still in a state of recovery even though the cases and people affected by the virus have curbed down.
The virus is still very much in play, making vaccination important and paramount in these conditions.
(Dr Chhajer is Director and Cardiologist, SAAOL Heart Centre, New Delhi and former consultant at AIIMS-New Delhi)
Lower Omicron death rate behind poor intake of covid vax booster shots: Expert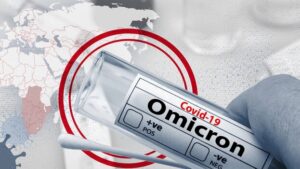 With this year's Omicron-led Covid wave, the death rate was much lower in comparison with that of the Delta variant last year. This lowered severity and threat level could be one of the main reasons for the lower spread of the booster dose across India, according to Dr Rajeev Jayadevan, Co-Chairman, National IMA COVID Task Force.
Jayadevan was explaining to IANS the reasons for the low acceptance of the third vaccine (or booster) dose.
The government administered booster doses against Covid-19 free of cost to all adults for 75 days from July 15 to mark the 75th year of Independence.
According to official data, the 75-day free drive significantly increased the demand for the third shot of the vaccine and brought the coverage of the eligible population up from 8 per cent to 27 per cent. In all, 159.2 million precaution doses were administered in these 75 days.
The rate of the overall booster dose intake, however, was low among the general population.
"Most adults in India are fully vaccinated, and many have also had natural infection. There is substantial immunity prevailing in the community, which is the likely reason for low hospital caseloads of Covid in most parts of India at this time. Booster doses revive immune memory and also boost mucosal immunity for a few months. But the vaccines used in India are different from those used in the west. Besides, they are based on the ancestral strain, which is no longer in circulation. We also do not have published studies on clinical outcomes in our population after booster use," said Dr Jayavedan.
About the booster outside the country, he said: "Booster studies from western nations are primarily based on mRNA vaccines, which are not used in India. Therefore western research conclusions cannot be extrapolated to the India scenario. Besides, the boosters used in western nations now are based on Omicron, which is a more recent version of the virus. Although the lab based data are encouraging, whether such bivalent boosters are better than the original when used in actual people, remains to be seen."
Being a cyclical viral disease, Covid-19 occurs in waves spread months apart, and each geographic region goes through a high tide and low tide. Those who took a booster dose should not be under the impression that all other precautions can be discarded. Indoor masking in public places and attention to ventilation and air quality are important to reduce overall infection risk.
"We are somewhat fortunate that the latest variant Omicron and its numerous sublineages such as BA.2.75 and XBB are of lower severity than delta, although more infective and immune evasive. Importantly, Omicron sublineages cause less lung damage than Delta. Continued evolution is occurring in this new virus which is still not fully known to man. Active surveillance is required to detect and report any further new variants that could have a different biological property than Omicron. We must also keep in mind that for a new variant to cover the globe it takes very little time, for example Omicron took only 6 weeks to spread all around the world, knocking Delta off its pedestal. We cannot therefore let our guard down," he said.
"Mucosal vaccines are relatively new. They have the ability to shore up the immunity in the nose and throat, which are the entry points of the virus – and this could reduce infection and transmission risk. They also have a role as boosters. However, large scale studies are awaited about how effective and safe they are. Those most likely to benefit from booster use are older individuals, and those who have certain disease conditions that put them at greater risk for seious Covid outcomes," Dr Jayadevan advised.