Kolkata, commonly referred to as Calcutta, is a bustling metropolis in the east of India that is rich in tradition, culture, and history. The city's rich history and diversified people have helped to give it a distinct personality and charisma. Kolkata is a unique city in India due to some distinctive features. Booking at kolkata hyatt regency makes the visit even more special.
 Here are a few examples:
Historical significance: Kolkata, originally known as Calcutta, served as the nation's capital during British India's independence movement until 1911. The city has a long history and is home to numerous historic sites, including the Indian Museum, St. Paul's Cathedral, and the Victoria Memorial.
Cultural diversity: Kolkata is renowned for the wide variety of cultures, faiths, and customs present there. The city is primarily populated by Bengalis, although it also has residents from other regions of India and other countries. The city's cuisine, music, art, and festivals all reflect this diversity.
The arts and literature: Literature and the arts have a long history in Kolkata. Rabindranath Tagore, Satyajit Ray, and Amartya Sen are just a few of the well-known poets, writers, and painters who have come from there. The renowned Academy of Fine Arts is located in the city, which is also well-known for its thriving theatre community.
Cuisine: Kolkata is renowned for its food, particularly its street food. The city is renowned for its savoury and spicily prepared food, which includes delicacies like puchka, kathi roll, and mishti doi. Numerous tea stalls and shops are providing a wide variety of tea throughout the city, which also has a strong tea culture.
Sports: Football and cricket are the two sports that Kolkatans are most enthusiastic about. Two of the major sports organisations in India call it home: ATK Mohun Bagan and Kolkata Knight Riders of the Indian Super League (ISL).

Whether you are a seasoned traveller or a first-time tourist, Kolkata has various tourist attractions worth checking out. 
We shall discuss some of Kolkata's most unique tourist attractions in this article.
Victoria Memorial: The magnificent marble Victoria Memorial was constructed as a monument to Queen Victoria. It contains a sizable collection of artwork and artefacts from the British colonial era, such as sculptures, manuscripts, and paintings. A beautiful area to stroll and take in the scenery is the memorial's surrounding grounds.
Howrah Bridge: The recognisable Howrah Bridge spans the Hooghly River in a suspension bridge. Thousands of vehicles, buses, and people cross this bridge every day, making it one of the busiest in the entire globe. The bridge is especially lovely when it is illuminated at night and casts a golden glow over the river.
Dakshineswar Kali Temple: One of Kolkata's most well-known Hindu temples is the Dakshineswar Kali Temple. Rani Rashmoni constructed it in 1855 and it is dedicated to the goddess Kali. The temple complex also has temples to other gods, a riverside bathing ghat, and an elegant garden.
St. Paul's Cathedral: Midway through the 19th century, St. Paul's Cathedral, an Anglican cathedral, was constructed. It is one of Kolkata's most important landmarks and a lovely example of Gothic architecture. Visitors are welcome to the cathedral, and tours with guides are offered.
Marble Palace: A stunning home from the middle of the 19th century is called the Marble Palace. It is renowned for its magnificent marble architecture, dexterous sculptures, and vintage furnishings. The palace's several rooms, which are home to priceless artwork such as paintings by Rubens and Reynolds, can be explored by visitors.
Mother House: The Missionaries of Charity, a group Mother Teresa founded, have their main office in The Mother House. Visitors can visit a tiny museum devoted to Mother Teresa's life and work as well as the room where she slept.
New Market: One of Kolkata's most well-known and historic markets is New Market. The marketplace is crowded and hectic, selling everything from clothes and jewellery to food and spices. The various food stalls offer mouthwatering street food that people can sample while haggling with the merchants.
Birla Temple: Built in the 1970s, the Birla Temple is a stunning Hindu temple. It is made completely of white marble and is devoted to Lord Krishna and his lover Radha. The architecture of the temple is beautiful and features elaborate carvings and sculptures.
Science City: Family-friendly and kid-friendly, scientific City is an interactive science museum. It has interactive exhibits covering anything from genetics to space travel. There is also an IMAX theatre where instructional films are shown.
Indian Museum: In India, the Indian Museum, which is housed in Kolkata, is both the largest and oldest museum. It houses a sizable collection of objects, fossils, and artwork that spans a variety of topics, including anthropology, archaeology, and geology. Anyone interested in culture and history should visit the museum because it is a fantastic resource for learning about both Indian and global history.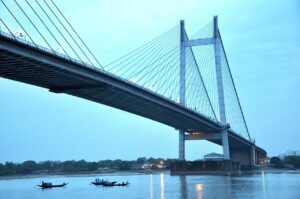 A five-star hotel called the Kolkata Hyatt Regency is situated in Kolkata, India's Salt Lake City district. It is a five-star hotel that provides its visitors with top-notch facilities and services. The hotel has numerous rooms and suites that are equipped to meet the requirements of both leisure and business travellers. Air conditioning, flat-screen TVs, minibars, and high-speed internet access are among the contemporary conveniences available in the rooms. Additionally, it has a number of eateries and pubs that provide food from many cultures, including Indian, Chinese, Italian, and continental. In addition, the hotel has a spa, a fitness centre, and an outdoor pool for guests' relaxation and rejuvenation.
Visitors who want to explore the city will find the hotel's location in Salt Lake City to be handy. Numerous commercial malls, office buildings, and tourist destinations including the Victoria Memorial and Science City are nearby. You must stay at this hotel if you have a pretty good money and wish to easily see these amazing sights in Kolkata.
Conclusion
Historically and culturally, Kolkata is a vibrant city. A unique fusion of history, culture, the arts, and cuisine make Kolkata a distinct metropolis in India. Everyone can take pleasure in the breath-taking colonial buildings, lively marketplaces, and magnificent temples. In light of this, if you're considering a trip to India, don't skip this wonderful city! Hence, hotel options like kolkata hyatt regency must be considered for planning the trip to Kolkata.