Cairo, May 29 – The UN High Commissioner for Refugees (UNHCR), Filippo Grandi visited the border crossing between Egypt and Sudan and checked relief efforts being provided to the thousands of people who have fled the conflict in Sudan.
During the visit on Sunday, Grandi thanked the Egyptian government for having received thousands of Sudanese and other people fleeing the "terrible violence" in Khartoum, Xinhua news agency reported.
Armed clashes have been going on between the Sudanese Army and the paramilitary Rapid Support Forces since April 15, leaving at least 866 civilians dead and 3,721 others wounded, according to data released by the Sudanese Doctors Syndicate on Sunday.
"My first point is an appeal to the military people that are fighting each other in Sudan. Please stop," said the UN refugee agency chief.
"If you care for your own people, please stop, because your own people are suffering," he added.
Grandi was accompanied by the governor of Egypt's southern province of Aswan during his tour at the border crossing.
Egyptian President Abdel-Fattah al-Sisi said on Saturday that the country has received so far 150,000 Sudanese citizens fleeing the ongoing conflict, besides already hosting five million Sudanese.
Sisi called on relief agencies and donor states to provide the necessary support to Sudan's neighbouring countries to be able to continue their role in hosting Sudanese evacuees.
The UNHCR chief arrived in Egypt on Saturday on a three-day visit, during which he is scheduled to meet with al-Sisi and the Cairo-based Arab League Secretary-General Ahmed Aboul Gheit.
Nearly 1.4 mn people displaced in Sudan since conflict erupted: UN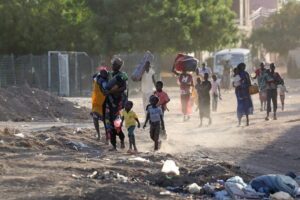 Since the violent conflict first broke out between the Sudanese Armed Forces (SAF) and the paramilitary Rapid Support Forces (RSF) on April 15, nearly 1.4 million people have been displaced as a result, the UN Office for the Coordination of Humanitarian Affairs (OCHA) said in its latest report.
Citing the International Organization for Migration (IOM), the report published late Sunday night revealed that over 843,100 people are internally displaced within Sudan.
The states hosting the highest numbers of newly displaced people are White Nile (25.2 per cent), West Darfur (18.6 per cent), and River Nile (13.8 per cent).
The highest number of displaced people are originally from capitl Khartoum (nearly 650,000 people or 72 per cent of the total internally displaced), followed by West Darfur (19 per cent), South Darfur (5.6 per cent), North Darfur (2.2 per cent), North Kordofan (nearly 1 per cent) and Central Darfur (0.21 per cent), according to IOM.
In addition, over 248,000 people have crossed borders into neighbouring countries — Central African Republic, Chad, Egypt, Ethiopia and South Sudan, according to the UN Refugee Agency (UNHCR).
The OCHA report said that millions of people remain without access to even the most basic of health services.
At least 34 attacks on healthcare, including 21 which have impacted health facilities, and 10 that have impacted health personnel since the beginning of the violence.
Some 67 per cent (59 out of 88) of the main hospitals in areas of conflict were out of service, according to the Committee of Sudan Doctor's Trade Union, and just 29 hospitals were either fully or partially functioning, with some providing first aid services only.
Meanwhile, health services have resumed in the Nyala Teaching Hospital (South Darfur), Bashair Hospital in Khartoum, and Damaan Hospital in Al Obeid (North Kordofan).
Meanwhile, the violent clashes have left at least 866 civilians dead and 3,721 others wounded till date, according to data released by the Sudanese Doctors Syndicate on Sunday.
Fighting has continued in the country, especially in capital Khartoum, despite the two warring sides agreeing for a seven-day ceasefire that started on May 22, brokered by Saudi Arabia and the US.
There are fears of further escalation with the ceasefire expected to end on Monday.
Renewed clashes have been reported in Zalingei, Central Darfur, and Nyala, South Darfur, while fighting has escalated in Ag Geneina, the capital of West Darfur.